Classical Ballet
is exciting, demanding and inspiring. It provides young people with beautiful posture, strength of body, mind, character and spirit. It develops confidence, co-ordination, expression and musical appreciation.
Classical dance class following the Royal Academy of Dance syllabus.
Find out more about the RAD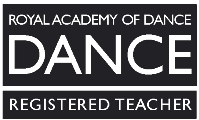 This enchanting work encourages your child to explore learning through play resulting in a confident, happy dancer.
At Red Shoes Dance we focus on nurturing the individual, fostering creativity and providing a positive learning environment.
Children at this level even have the opportunity to do their very first ballet exam.